I love budgets. Yeah, I know that's obvious, but the real reason I love budgeting is that is a tool to help me achieve my financial and life goals. But we all know that having one tool can't really build an entire house. Likewise, having only one financial tool in your arsenal can only get you so far.
So I've put together a list of resources that have helped me over the year to not only save money, but time and sanity as well! Check them out below, and let me know if there's anything NOT on this list that has helped YOU financially rock at life!
Disclosure: A few of these are affiliate links, and I do receive a small commission if you use my links to connect with these products and services. You're support means a TON, and helps this lil' blog keep on chuggin'! I promise I will NOT recommend something I don't believe in, and will do my best to explain HOW to use these recommendations to their best potential. Don't feel the need to spend any money on something unless it will truly help you meet your financial and life goals.
Budgets
If you like to keep it simple, check out my FREE Family Budget Template to get started today!



We use Mint.com as our primary budgeting tool, and it's pretty awesome. I am happy to report that we have been able to cut down some of our problem categories (ahem, food) because we can quickly pull up the nifty bar graph that shows EXACTLY where we are for the month in any category. Overall, and great tool, I highly recommend if you want to get started budgeting quickly and easily. Oh, and FREE! I put together a step-by-step guide on getting your budget started with Mint.com on the blog.
Food
Let's be real, if you looked at your spending, the one category with the widest variance and probably the most room for improvement is your food budget. And yes, this includes eating out. I have done over a dozen budgets on this site, and another 10 in real life, and most of these people are going to be hundreds of thousands of dollars richer by slicing their food budget in half and still enjoying great meals. But meal planning sucks, takes time, and is mostly frustrating. So I always recommend eMeals people, because they literally shop the deals, and send you a weekly meal plan including price, ingredients, and recipe for each meal. BOOM! Think of all the headaches saves, yummy meals to be eaten, and MONEY TO BE SAVED by joining. You can check them out by clicking here and finding the best meal plan for you! (They have Paleo, Clean eating, Family Meal plans, etc.)
Investing
I recently hit the EJECT button on Edward Jones and transferred my Roth IRA to Vanguard. With the lowest fees around, a passive investing philosophy that even my peanut-sized brain can understand, and the best Index Funds in the biz, I feel safe recommending Vanguard.com as the place to start investing for your future.
Relevant: The book that lead me to make this leap of faith was Millionaire Teacher. An easy read that exposes how most people's investment portfolios are getting sucked dry with fees and they don't even know it.
Books
Books I've Read
The Total Money Makeover by Dave Ramsey: This book was the spark that ignited in me a passion for personal finance and budgeting. You could say that Dave Ramsey started this website. Great read for those getting started AND for those who just need a kick in the pants to start taking control of their finances in a real way.

The Millionaire Next Door by Thomas J. Stanley: This book was given to me as a Christmas gift a few years back. I LOVE NUMBERS, so this was an awesome case study of who REAL millionaires actually are. Hint: They don't lease fancy cars and buy crap they can't afford to impress people they don't even like.

Millionaire Teacher by Andrew Hallman: This book caused me to completely cancel my Edward Jones Roth IRA and transfer it to a Roth IRA at Vanguard.com. You can check out my review of the book here. Essentially, it showed me, in simple terms, why investing in index funds is SO MUCH SMARTER than paying ridiculous fees to people who TRY to beat the market….and mostly fail.

The Goal by Eliyahu M. Goldratt: My wife read this book in college and kept telling me to read it. Finally, I sat down and opened it up. It's a very easy read, with a compelling story, but is teaching VERY IMPORTANT business principles that can apply to ALL entrepreneurs and people who want to lead. It was a great read overall, giving me some great process tools to begin implementing both at work and for my business..
Cell Phone Plan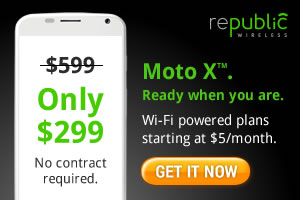 Let's face it, you're dropping almost $80+ per month, per person for your smart phone plan. You just accept it as the norm. But there's a new player in town, and they have a ROCKING service. They use WiFi for most of your calls, text and data, and Sprint towers when you're not in WiFi range. Given their hybrid technology, they can offer some KILLER low prices.
They also have two phones to choose from. I reviewed the basic one here. The new Moto X is on par with the Galaxy S4 in terms of quality everything for the more tech-savvy among you. Basically, you purchase the phone outright ($99 for the Defy XT or $299 for the Moto X), pick a plan and you're off. Here are the plan options:
(Defy XT Plan) $19 per month unlimited Talk, Text and Data on WiFi with unlimited talk, text and 3G data on the cell network
(Moto X Plan) $5 per month unlimited Talk, Text and Data on WiFi
(Moto X Plan) $10

 per month unlimited Talk, Text and Data with unlimited talk and text on the cell network

(Moto X Plan) $25 per month unlimited Talk, Text and Data on WiFi with unlimited talk, text and 3G data on the cell network
(Moto X Plan) $40 per month unlimited Talk, Text and Data on WiFi with unlimited talk, text and 4G data on the cell network
So take your pick and save up to $75 per month today!
Entertainment
Of course, I recommend cutting the cable because it's a waste of money! There's no rationalizing it! But the reason I do that is because there are options out there to get all the entertainment you need for MUCH cheaper. Here's how we do entertainment:
LCD TV with built-in digital tuner. Antenna for local channels (we get football games)
Hulu.com shows for FREE. We don't pay for the service, because there are enough free shows to melt our brains. No need to pay.
Amazon Prime streaming. Mostly, we enjoy the free shipping, but there are some decent movies and shows on the free streaming portion of Amazon Prime, and it seems to be getting better and better
Christmas gifted movie tickets. We don't go to the movies much, and we have collected a bunch of free tickets over the years. I think we still have 4 left.
Now, if there are shows you MUST have on Hulu Plus or Netflix, that's all good. At least you'd only be dropping $8 a month each, which is WAY cheaper than cable. I'd rather cable just die, and streaming services get ALL the good movies (like National Treasure) so you can watch anywhere.
**NEW** Finally a compelling reason to cut cable by giving you THE ONLY CHANNELS YOU ACTUALLY WATCH ANYWAY! Introducing Sling Television! Sling is a streaming service (works through devices like ChromeCast and Roku) that gives you THE BEST of Live TV for only $20 per month. No more scrolling through 500 channels that no one wants. Nope, just the good stuff. Channels like ESPN, ESPN2, HGTV, Food Network, Disney, and a ton more.
If you click HERE, you can get a 7 day FREE TRIAL of the service.
But even BETTER, if you pre-pay for 3 months of service, you get a FREE Roku or Chromecast. BOOM.
Sign up HERE for your free device and GO CUT THAT CABLE!
Blogging

I've been at this blogging thing for about 2 years now. I have been able to build a great readership and even bring in monthly income due to the smooth operation of my website. I have only had one hosting service the entire time, and have been very happy with them. With great speeds, super easy-to-use setup and interface, and excellent customer service, Bluehost seems to be rock solid as the best choice in web hosting.
If you are thinking of putting your own voice out there, I definitely recommend starting with Bluehost. And here's the best part, you can host AS MANY SITES AS YOU WANT for the same monthly fee. Yes, go buy 100 domains and then throw them all on your cheap $7/month hosting plan because WHY NOT?! But seriously, they've been great, and I plan on using them until my millions of pageviews melt their servers into oblivion….well….in which case they'd probably just migrate me to another server with minimal downtime.
Other Stuff
Money is used everyday, on almost everything, so you'd better have a plan for where it goes. Obviously, get on a budget plan to direct your money where you want it to go and STOP wasting on stuff you don't care about. When you go to spend it, make sure you are doing your research to get the best deals out there. Here are some helpful links to help guide you on how to make the most of every dollar:
How To Save Money When You Buy Electronics
Cloth Diapers vs. Disposables: Cost Comparison
How To Save Money: Learn Basic Car Maintenance
Amazon Prime Free Shipping For Your Family At No Cost
Naked Lady Party: The Ultimate Guide To Having A Clothing Swap
And honestly, just check out the rest of the How To Save Money series.
Please let me know of any awesome products or services you recommend so I can check them out and save myself some cash moneys. If it's awesome, I'll even throw it up here to help out even more peeps. Thanks!